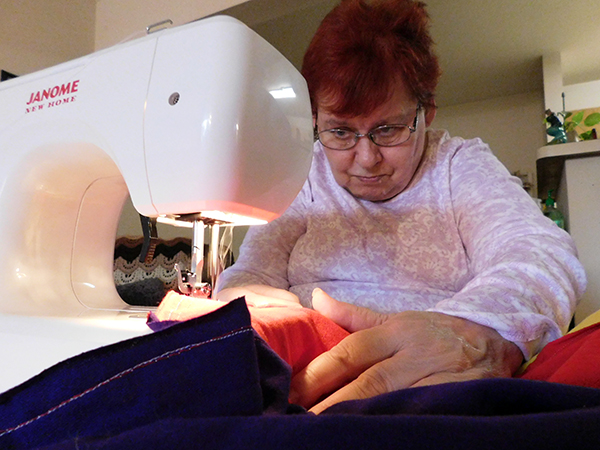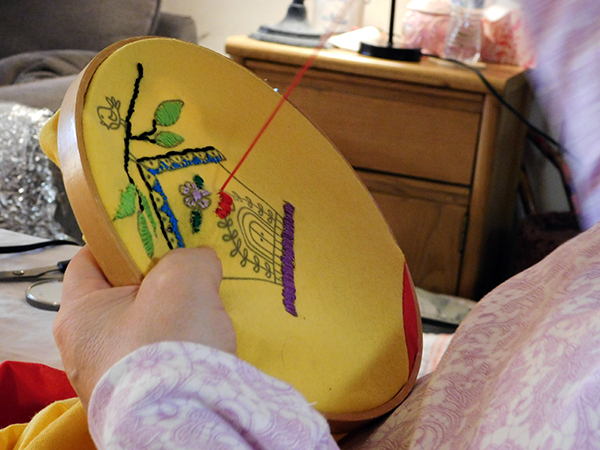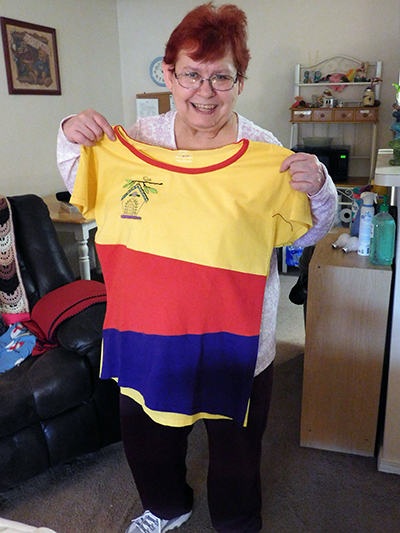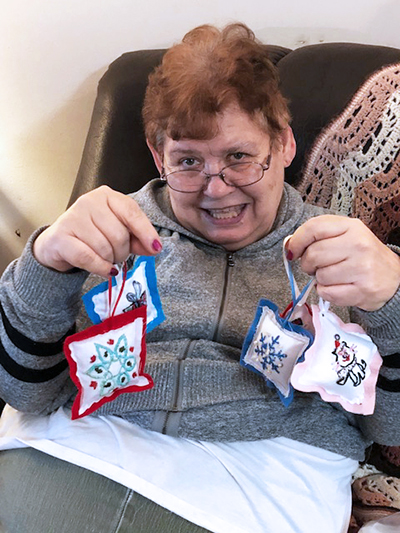 Cynthia has resurrected an old skill and is turning her abilities in a new direction: She's building an inventory of products she has sewn and aims to sell them online.
Her business, Cynthia Sews, ultimately has its roots in her teenage years in Florida, where she learned to sew and embroider in a home economics class. Her return to sewing in the last few years helps keep her active and engaged.
Cynthia, 66, was encouraged by a doctor to take up sewing again to help occupy herself constructively. She's taken that advice and built on it.
Her sewing got its biggest boost almost two years ago, when sewing instructor Brenda Britt began the Creative Expressions class that meets in Easterseals Arc's Projects Drive Group facility. Cynthia is a dedicated regular in those classes, and she has a sewing area of her own in PDG.
Now she can carry on her sewing at her apartment, too. Elsie Davis, the Easterseals Arc staff member who works with Cynthia most, found a sewing machine that Cynthia could afford. Cynthia can create a workspace for herself in the apartment she shares with her roommate, Karen.
Sherry Walton, a behavioral consultant who works with Cynthia, said that pursuing her sewing hobby and working to turn it into a small business is teaching Cynthia lessons about budgeting, too.
"She has to budget. She only has $20 a week to spend," Walton said. Walton and Davis watch for sewing supplies, such as yarn and the T-shirts Cynthia customizes, on sale. Cynthia has taken to asking for sewing supplies for her birthday, too.
Her business, Cynthia Sews, has made some sales through a vending table in the PDG building and from Easterseals Arc booths during craft shows. The next step is taking it online.
"We'll put in the computer," Cynthia said.
Walton doesn't know what platform they might use to sell products from Cynthia Sews – perhaps Etsy or eBay – but there are some obstacles to overcome. One important consideration is "making sure personal information is kept private," Walton said.
In the meantime, Cynthia keeps sewing. She's done pillowcases, purses and Christmas ornaments. She recently started stitching parts of three T-shirts into one, and she's drawn a design for a cat toy.
"Cynthia embroiders for hours and hours, until her fingers hurt," Davis said.