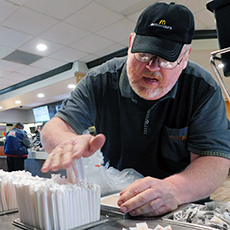 Ralph keeps McDonald's scrupulously clean. Three days a week, from mid-morning to early afternoon, Ralph works a steady circuit around all the public areas of the restaurant on Coliseum Boulevard.
Mostly he enjoys the work, he says. But that work is not an end in itself. Working at McDonald's is a step toward a bigger goal for Ralph, 55.
"I'm going to move out on my own," he says.
With the help of an employment specialist at Easterseals Arc, Ralph has met many goals on the road to more independent living and employment in the community.
When he began working toward community employment, he lived in a group home and worked in Easterseals Arc's Projects Drive Group, where individuals complete contract work for local businesses.
His first major step came in 2015, when he worked in the first Employment Readiness Academy at Lutheran Hospital. That's an intensive 18-week program in which participants work closely with mentors. They learn general skills for success in workforce, as well as skills specific to the jobs they perform at the work site.
After completing that training, he moved out of the group home into a home with roommates who live more independently, with less assistance from staff. He still enjoys going bowling, and at home, he likes to play video games.
In late 2017, he landed his job at McDonald's. He's doing well enough in his work there that he's being cross-trained to handle more jobs at the restaurant.
Now he's worked up to keeping the facility clean and stocked almost singlehandedly during his four-hour shifts. He cleans glass doors, sweeps the lobby floor, mops bathroom floors, refills napkin and straw dispensers and more. He works steadily and meticulously, more than keeping pace with the small smudges and bits of litter customers leave behind.
As he grew more comfortable in a job in the community, he left the Projects Drive Group.
He's become an integral part of the McDonald's staff.
"He's a fun guy to have around," said restaurant manager Rich Brown.