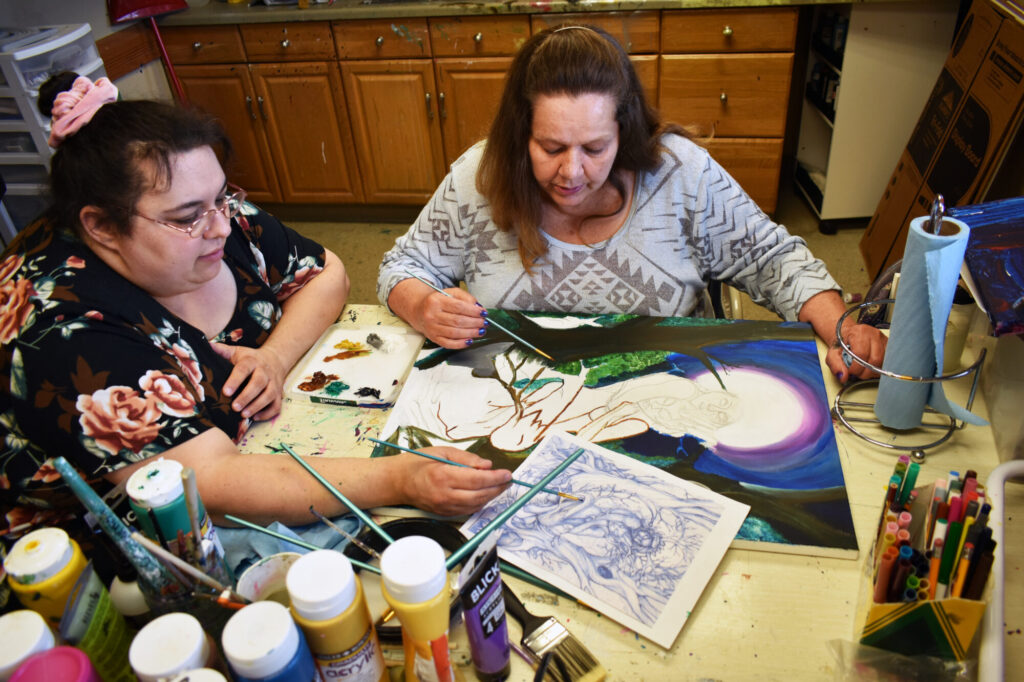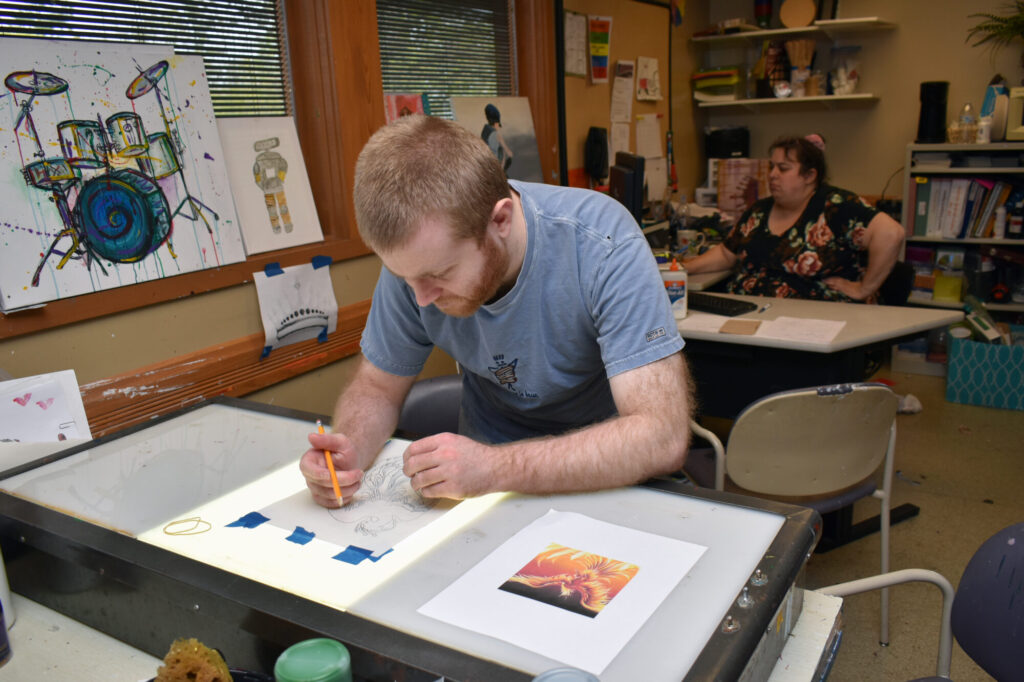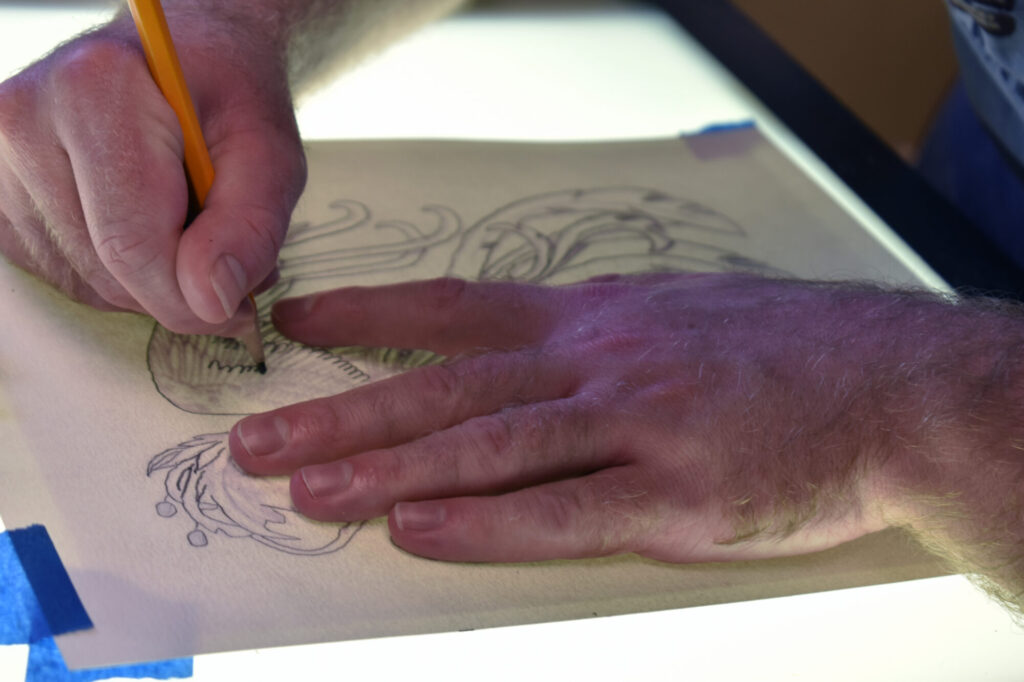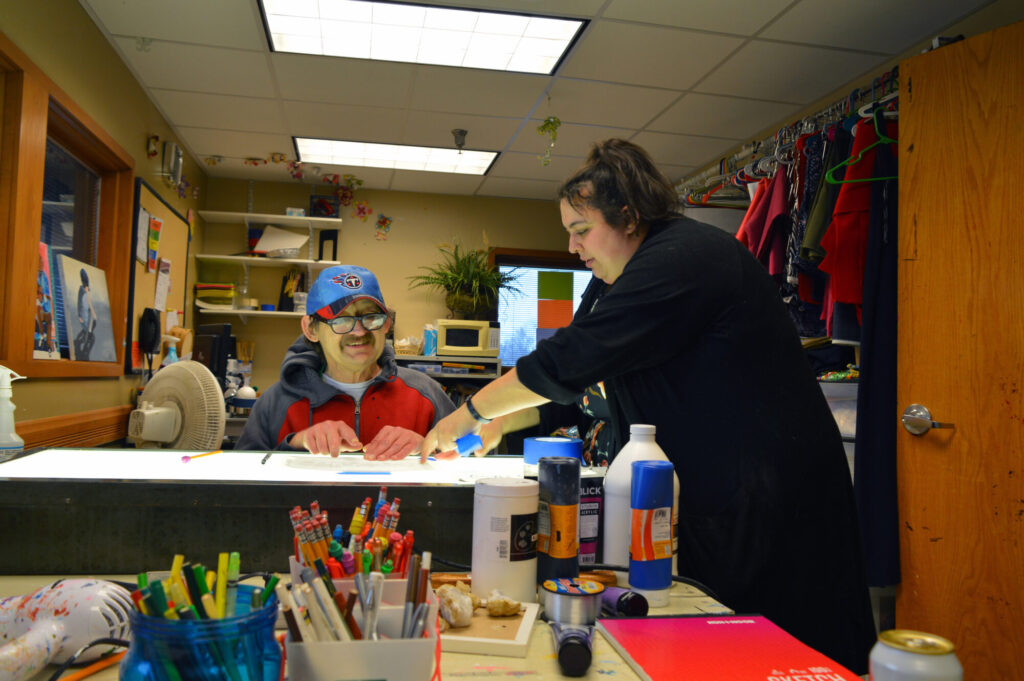 On a typical weekday, four Easterseals Passages participants immerse themselves in making art. For an hour or more, each person works with Jamie Hyser, the art instructor, producing and polishing drawings and paintings in a studio at Easterseals Passages' Creative Learning Center.
Art is popular at Easterseals Passages, and staff members have helped people create art for years. Working on art with participants one-on-one is Hyser's job.
Among the work recently:
Chester, who loves trucks and tractors, traced a drawing of a six-wheeled vehicle on a light table.
Doug painted parts of a drawing of a drum set. Hyser helped him add striking red accents to it.
Barbara filled in details and color in an enlarged drawing of wood nymphs in a forest.
Josh used the light table to trace an illustration of a phoenix.
Larry, who enjoys combining basic geometric shapes in artwork, worked on a stylized race car built of circles, triangles and rectangles.
Hyser has enjoyed making art since she was a child. Not long after she started working as a Direct Support Professional at Easterseals Passages 10 years ago, she began helping people create art. She saw that encouraging people to make art was already a tradition there, though it was typically done in large groups. She couldn't wait to merge her professional duties and personal hobby.
"Man, I want to teach art! I love art!" Hyser, 39, remembers thinking. Over time, she was able to begin the one-on-one instruction she does now.
The instruction is tailored to each individual. For example, she may break down the series of decisions in creating a painting into many separate choices she offers each artist. For people who like particular images or designs but lack drawing skills, she may render an image in broad strokes and have them trace it on a light table before painting it.
Some artists speak up boldly as Hyser collaborates with them in turning an idea into a painting. Barbara, for example, came to her with a photo of a small sketch of two wood spirits, male and female, embracing and enfolded in trees. Hyser enlarged the drawing, adding details, such as a mouth on the male spirit. As for that male spirit, he clearly ought to be "goldish brown," Barbara insisted. "He's a wood nymph," she said. "He was a tree. He came from a tree!"
The slow magic of turning people's imaginings into big, bold artwork brings rewards for Hyser every day.
"I like giving them the opportunity to create things they thought they might not be able to," she said.