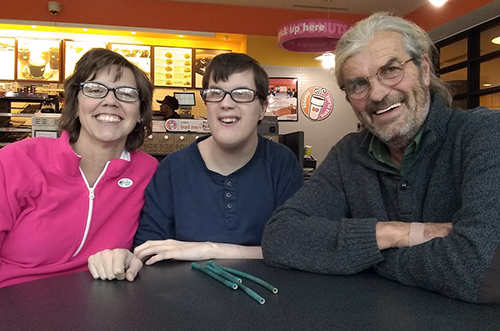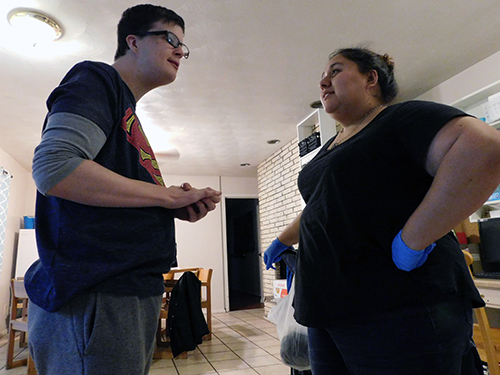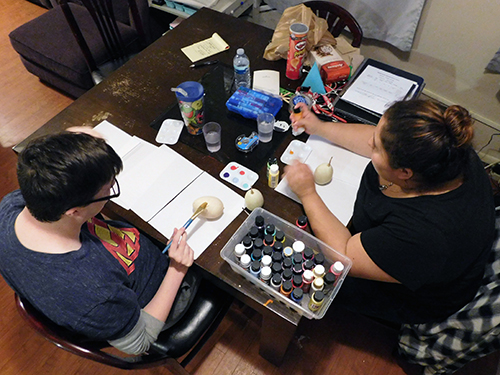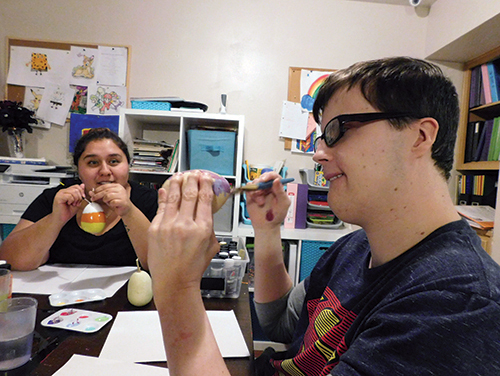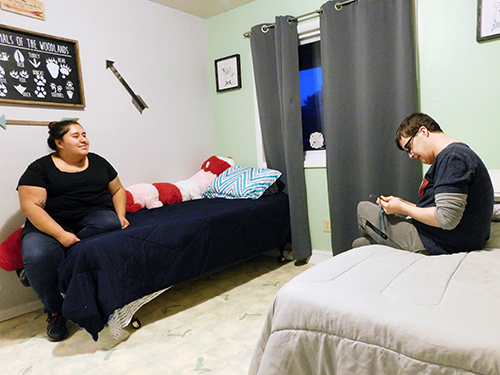 Twice a week, 29-year-old Caleb settles into a home away from home. Often he spends hours socializing with Easterseals Arc staff he adores. If there are more clients at the Respite House, Caleb usually has a bedroom to himself where he can rest or watch movies.
On a recent Thursday evening, when Caleb was one of only two consumers at the Respite House, house supervisor Katie Moreno was never far from his mind, even when it looked like he was engrossed in a Scooby-Doo movie.
A cough, one cough, from Moreno put Caleb on alert.
"Are you OK, Katie? You OK?" he called from the living room. "Yes! Thank you!" she called back from the kitchen, where she returned to giving another consumer his dinner.
That's how tight a bond Caleb and Moreno have built in the last three years, which is about how long Caleb has been coming to the Respite House, and also how long Moreno has worked there.
The Respite House helps Caleb in another crucial respect: It provides his parents with a couple of long stretches of rebound time each week. Caleb lives with his parents and 19-year-old sister, Sophia, and caring for him keeps his parents deeply engaged with him every day.
In fact, his father, Kent Young, works four jobs, from musician to philosophy instructor, and one of those jobs is a paid position as Caleb's primary caregiver. Caleb comes across to a new acquaintance as social, talkative, and closely attuned to people around him. But that doesn't mean he's able to be on his own.  His mother, Janelle, said that unless he's watched closely, he could endanger himself by wandering off. She said he's subject to mild seizures, and his autism, severe obsessive-compulsive disorder and severe arthritis require careful care.
That's what they find he gets from Moreno and Easterseals Arc staff member Courtney Selvia.
"They really have worked hard to get to know him," Janelle Young said.
The pressure of meeting Caleb's needs for three decades, of carving out time for his 19-year-old sister, of making a living as they make the best life possible for Caleb all combine to stress their marriage.
"Our marriage has suffered," Janelle Young said. In fact, she thinks their marriage might not have survived without the breaks the Respite House provides.
Nothing was more stressful than times when Caleb's care wasn't good enough to meet his needs. For a decade, he lived in group homes, and his experiences ranged from wonderful to terrible. Even in good settings for conscientious care, Caleb can be a tough fit. He's very sensitive to noises, so fellow consumers who do a lot of yelling can be unbearable for him.
Even in the Adult Day Center at Easterseals Arc, Caleb's happiness depended on being in one specific room, Janelle Young recalls. When he couldn't be in that room, he didn't do well. It's tough to square the idea of his being unhappy with the way he gets along in Respite House. He smiles and laughs so often, and embraces staff so comfortably and frequently, that he might seem to be the happiest guy you've seen all day. But that relaxed ease he shows doesn't happen by itself.
Finding staff who understand Caleb's sensitivities and quirks is part of why Janelle and Kent Young are so grateful for Moreno and Selvia. They know how agitated a noisy consumer in the house can make Caleb. When a consumer who's prone to loud noisemaking is scheduled in, Moreno calls Janelle Young and sketches out the situation. Sometimes Janelle will cancel her son's next stay at Respite House, and everyone has a better evening for being forewarned.
The crew that staffs the Respite House ensures that breaks for his parents enrich Caleb's life, too.
On that same Thursday evening that Caleb watched the Scooby Doo movie at the Respite House, he also made a pitch to give the pet tortoises at the house a bath (that didn't happen) and to do some painting (which he and Katie did).
He picked out which white gourd he would paint and which she would paint, then he picked out the colors they would use. And there weren't many quiet moments as they worked.
"You're being ornery," Moreno told him.
"What's that mean?" he asked.
"It means you're being silly."
"I love you so much, Katie!"
"I love you, too."